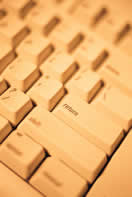 Bilingual accounting and business management software packaged in two language sets: Japanese and English.

Completely modular, multi-company system for Microsoft ® Windows ®. Supports "country" currency definition for each company. Built in bilingual reporting capacity. Security protected. User friendly.

Modules can work together or independently: General Ledger, Budgeting, Accounts Receivable, Invoicing, Notes Receivable Manager, Accounts Payable, Purchase Orders, Inventory Control, Foreign Currency Manager.
Single user and Multi-user licenses for 3, 5 and 10.

Japanese set: Manuals in Japanese. Screens, Data Input and Reports in Japanese. Reports in English as well.

English set: Manuals in English. Screens, Data Input and Reports in English. Reports in Japanese as well.

HappyAccounts® users with Japanese speaking and English speaking staff can run simultaneously both language sets in a Network.

Business Automation System for all Companies.


System Requirements:
Windows 2000/XP/Vista/7 (English or Japanese Windows), Windows Server 2003/2008.


E-mail to us for further information:
info@happyaccounts.com


Participant at JETRO Techno Business Forum 2000 - Tokyo February 29, 2000

Participant at COMDEX TOKYO '98 - Sponsored by JETRO New Import Product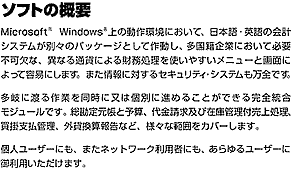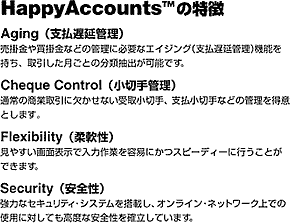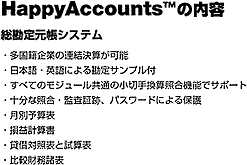 Windows is a registered trademark of Microsoft Corporation.